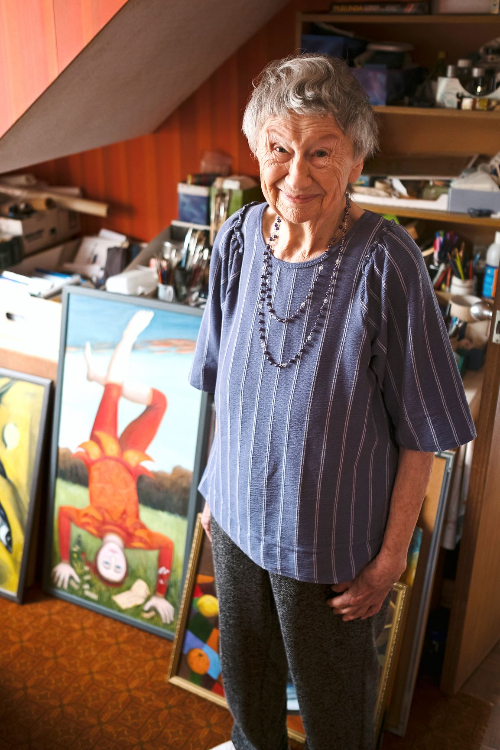 I was nine years old at the onset of the Second World War. Until then life was pretty normal. My father was a draughtsman and my mother a violinist who played musical accompaniments to silent movies – an obsolete job in the late 1920's when talkies (movies with sound) were introduced. An opportunity arose for my father to work at the Admiralty in London, designing components for battleships. This meant moving from my birth town of Portsmouth to Sidcup in Kent. I vividly remember, despite being young, the radio broadcast by Neville Chamberlain announcing that the country was at war. I recall being asked if I was frightened. 'No,' was my answer. War was a word without any real comprehension. As a child you had little notion of the troubled times that lay ahead. It felt like no sooner had we settled before once again we were on the move, this time to Bath, where the Admiralty was relocated.
'underfloor heating... meant the children's crayons melted on the floor'
As time went on complacency over our safety grew, but danger was never far away. The Luftwaffe, having bombed Bristol, indiscriminately dropped any unused payload on Bath. We lived in two rooms of a Georgian terrace, the bedroom being at the rear with my bed nestled beneath the window. On one occasion I awoke to find myself being pulled out of bed by my father, who immediately reacted upon hearing the sound of machine-gun fire as a plane swooped low, strafing bullets into buildings. The next morning, above my bedroom window, it was all too apparent what a near miss it was.
Even from a young age I've loved art – at school it was my strongest subject. Upon returning to Kent, after the war, I attended the Sidcup School of Art. In those days it was the norm that girls would leave school and be employed in a menial job until marriage. However, the war changed things for women and thankfully my father noticed society was changing, instead supporting my desire to be an art student – something I hugely respected him for. The completion of my course coincided with my parents moving back to Bath, where I attended the prestigious Bath Academy of Art, at the imposing Corsham Court. What a glorious time that was, visiting galleries in London and Paris while being taught by renowned artist William Scott. In 1951, just prior to the start of my career in teaching, I was in London. During this time I experienced the vivid technicolour of the Festival of Britain. It was just the positive boost that the country needed after many sombre years.
In 1955 my teaching post was in Newport, Wales. It was there that I married John, a fellow student whom I'd met while at Corsham Court. Like myself, John was a teacher. Shortly after marriage we took our teaching skills to picturesque Banbury in Oxfordshire. By 1965 my husband decided it was time to move; this time to Harlow. Picture if you will swapping idyllic Banbury, with its chocolate-box cottages, for Harlow. In my eyes, it was a town of modernist architecture limited to a colour palette of concrete tones – and, amusingly, a home with underfloor heating, which meant the children's crayons melted on the floor. Regardless of my views, my husband's new job, head of the art department at Harlow Technical College, deemed it worthwhile. While he worked I was at home caring for our two small children.
'you felt that everyone wanted Harlow to succeed'
I found that the redeeming feature for Harlow was its inhabitants. Almost without exception you felt that everyone wanted Harlow to succeed. With such positivity, I could turn a blind eye to the architecture and enjoy the town for what it was – a strong community-based town.
It wasn't until the late 1960's that I started working part-time and it was 1979 before I returned full-time within the art department at Harlow Technical College. At this time the atmosphere within the college was one of positivity. However, my personal life was in an emotional turmoil at that time, and painting and writing poetry was my coping mechanism. As the years went on, my subject matter and painting style altered along with my emotional state.
Meanwhile, at the college, a noticeable shift was taking place. The dropping of 'Technical' from the college's title might appear to be trivial, but it coincided with sweeping educational changes. Exams changed, bureaucracy increased and the ratio between teaching and admin swung towards the latter; it became frustrating. I loved to teach. I stuck with it solely for that reason, expecting to teach beyond retirement age. Yet, when that day came, I'd had enough.
Retirement has been varied. Time spent researching my family history led to a discovery that I'm possibly related to either King Edward I or a pirate called Henry Every. I also put my artistic skills to good use, painting scenery at the Harlow Playhouse.
Increasingly I've found that many of my poems and paintings, crafted as a way of dealing with my personal life, say a lot for the current state of the human race. None more so than my painting of the fool and accompanying poem:
The Fool stands on his head and sees the World the right way up.
The World made more beautiful than we deserve.
Yet now this World is cruel.
The Earth we stand upon is lost, to Violence, to Evil.
The Fool sees the sky above that is still beautiful, and therefore sees the World the right way up.
The respect for the town, one another and the community spirit I witnessed upon moving to Harlow has dwindled. At times I just have to switch myself off from the media; ignoring the constant negativity we are bombarded with. I know such changes aren't reserved for Harlow alone – they're nationwide and worldwide. If the effort we put into negativity (which I'm sure leaves some feeling, 'What's the point?') could be used for positivity think what a powerful cause for change that could be.