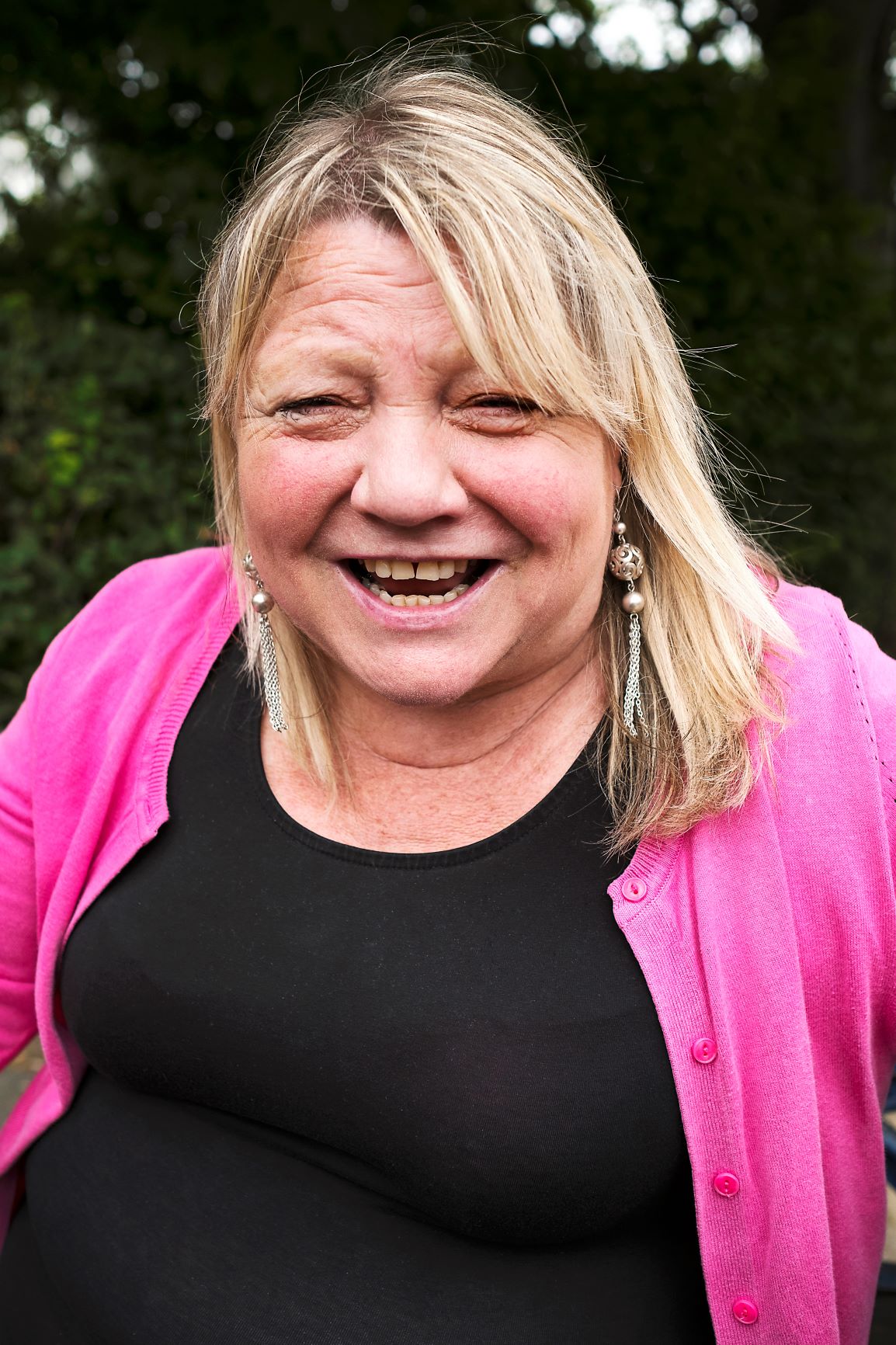 It was a while ago, but I once worked as a kissogram – as a single parent it was just a way of making ends meet. It wasn't like the seedy equivalent that goes on nowadays; I'd turn up, smother the unwitting gentleman in lipstick and be on my way. It was easy money; aside from the time when I got a job as a singagram, the problem being that unlike my dad, who could belt out a song with ease, I can't sing a note! I made my excuses and quickly left – blaming my poor performance on a sore throat.

My happy-go-lucky persona is definitely something I've inherited from my Irish father. He was a right character who, like myself, would do anything for a laugh. His Celtic charm worked wonders on my mother (who he met on St Patrick's Day), persuading her to ditch work for the day and go partying with him instead. They married, with me, the eldest of three sisters, born in 1958. He was a right one with my mother, deliberately winding her up just to get a laugh. Then again, I was no better: I'd play good-natured tricks on my parents just to get the banter going between them.
'a grandmother and also a nanny'
I was brought up in Highbury, London. Our lifestyle was simple by today's standards: with dad a decorator and mum working in a laundry, we couldn't afford all the expensive trappings of life. In spite of that it didn't stop me having a great childhood – bikes, homemade go-karts, dens and hair-raising trips to the park for me and my sisters, while clinging on to any available space on my dad's beloved 125cc motorbike. Above all, we found things to keep us amused, unlike kids nowadays, who still struggle even when faced with endless possibilities.

Our house was often a second home to neighbourhood kids, many of whom had a tough home life and therefore needed some extra TLC. For such good-natured actions my parents received nothing other than the love and respect of the community.

School was fine; it was Catholic of course – which meant Saturday school. That, with the help of my mum, I often skipped and went to the movies instead. I've never been much of a churchgoer; I can pray anywhere – I don't need to be in a church to do it. However, as a kid I never missed church on a Sunday – especially as Dad often stopped by the pub on the way home and bought us ginger beer and crisps.

I had my son when I was twenty-two. Months later his father left me for one of his old girlfriends. Aside from breaking my heart, it put untold financial pressure on me. But I learned to move on – in fact I'm good mates with my ex now. You can't be bitter about things and stop getting on with life. No one's perfect, we all have our faults – including me. When my son was two I met someone else, with that relationship lasting thirteen years. His daughter, whom I'd known from a young age, is like the daughter I never had. I couldn't turn my back on her just because her dad and I split up – my door is always open, I'll do anything for her. I guess that's another trait I've learned from my parents.

I've only the one child; I would've liked more – but it just wasn't to be. But I'm lucky enough to be a grandmother and also a nanny. It's a job I've been doing ever since I was made redundant from a bank. I'm sure my easy-going but, above all, caring nature has a lot to do with the highly successful clients I work for, which has taken me as far afield as Hong Kong.

For one reason or another I needed to be out of London; looking further afield offered me more value for money. Before settling on Harlow I knew very little about the town. I honestly found the thought of leaving London difficult. It wasn't so much what I was losing, it was more a case of leaving behind the 'security' of what I'd known for so long and stepping into the unknown. I've been here for around a year now. The transition has been made all the easier by a sense of pride and community that, in my opinion, has long since gone in many areas of London. I'll be honest, it did surprise me – especially when many in Harlow are surviving as opposed to living. But, as odd as it might sound, I often find that those who are struggling go that extra mile to help others. Take one of my neighbours, for example. He's has his own problems, but still finds time to lend me a hand. And I'll repay that favour to him – it's what makes the world go round.
'Harlow has a sense of pride and community'
I'm not sure why some choose to be negative about Harlow. Some of the views expressed by a minority of the town's population are a little old-fashioned. Then again, London was once the same – given time, attitudes change. Maybe some have become a little blinkered, failing to see what a strong community the town actually has, instead focusing on things to moan about. Personally, I'd rather turn a blind eye to such things, especially if it's something trivial – or, rather than stew on it, why not do something about it? Lead by example.
One thing I've learned is never to transmit my problems (and, trust me, I've had them) on to others. Why bring someone else down just because you're unhappy? Negativity breeds negativity. What's the point? Be positive about what you've got.