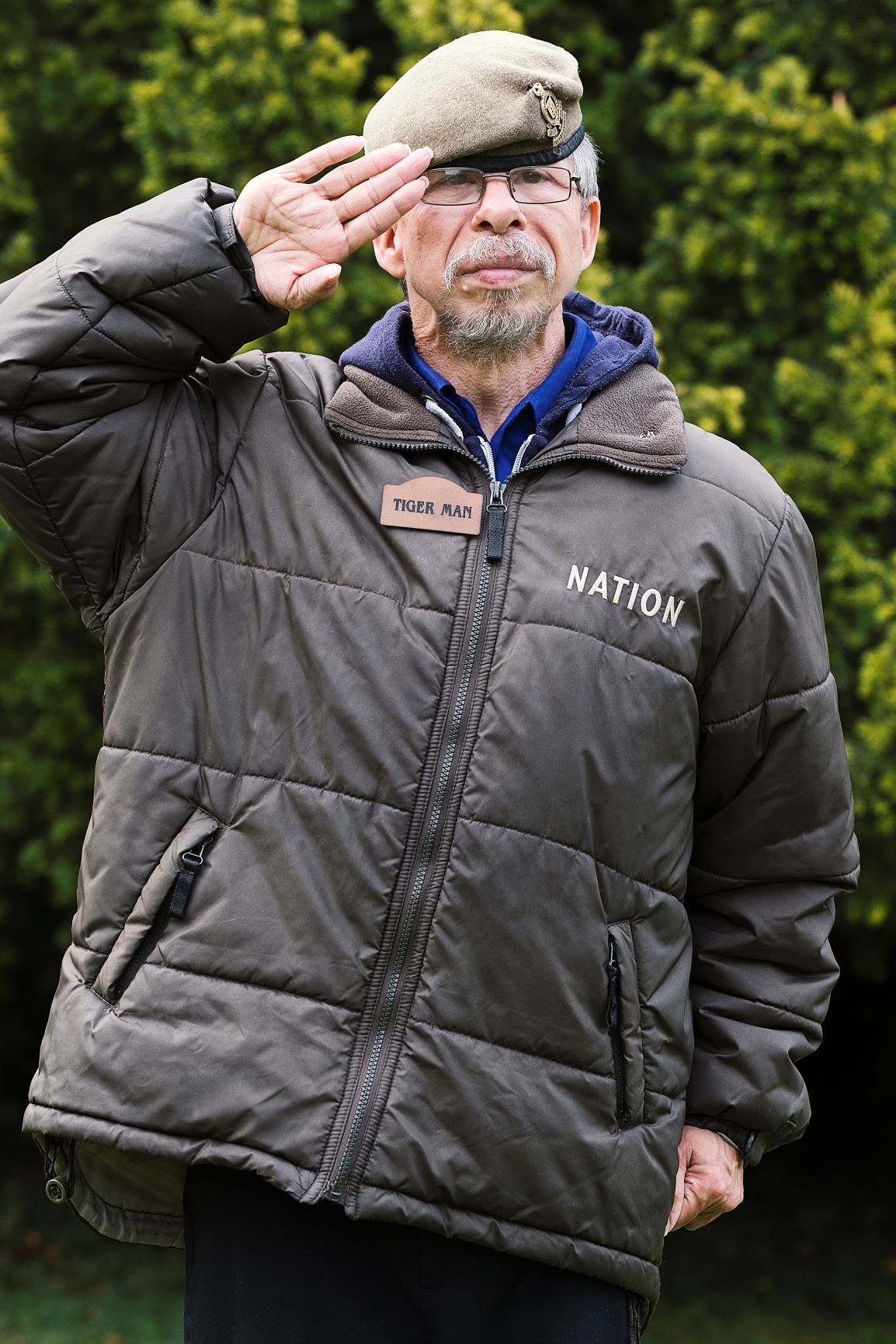 I've become a recognisable face in Harlow – although I'm not sure how or why. I don't mind the attention, even when people shout, 'TIGER MAN!' or stop to have their photo taken with me. However, as I go about my business in town, it would be nice if those that spotted me stopped and had more of a chat, asked me how I am, what my hobbies are, what's with the beret and why I'm called Tiger Man.
I first came to Harlow in 1986. I wasn't born here; I'm originally from Staffordshire. That's where my father, a warrant officer in the Royal Electrical and Mechanical Engineers, was based. His job, keeping all the equipment the British Army used well maintained, meant that when I was a young boy our family all went to live in Singapore. I'm not exactly sure how long we lived there, but what I do remember (besides the sun, rain and thunder) are the times my father showed me around the army base. Seeing all the military equipment was fantastic! Those memories have stayed with me; it's why I love all things military and explains my beret.
I've always had mild learning difficulties, which has been a challenge, but as I grew older I realised I wanted to become more independent; it was something my parents agreed with too. So I started going to a day centre in Billericay, near to where we lived. It was good, but I wanted more independence. So when I saw an advert for a residential home with supported living in Harlow it looked perfect. It was a good decision moving here and I've never regretted it. It's given me the freedom to live my life to the full, but I've the security of knowing that there are people around to keep an eye on me.
'It makes me sad when people say negative things about Harlow I don't think I would have been as happy living anywhere else'
They also help arrange trips so I can visit museums, military shows and zoos. I love going to the zoo – especially seeing the tigers. That's why some friends at college gave me the nickname. And the 'Tiger Man' badge I wear was given to me by the staff who work in the shoe repair shop in town. I didn't ask for it, they just called me over and gave it to me as a gift – that really meant a lot to me. As I walk around Harlow I observe many things. So, over the thirty-one years I've been living here, I've seen the town change a lot; sadly not always in a good way. I do try my best to see beyond the bad stuff; but maybe I find it easier than others? People do say that I'm a very happy and positive person, but it still makes me sad when people say negative things about Harlow. It's a shame, as I've got a lot of love for the town – it's my home, it's my patch and it means a lot to me. I don't think I would have been as happy living anywhere else.
Every November, on Remembrance Sunday, I like to pay my respects to the people who gave their lives for this country. After I'd been going for a few years, those who organise the service asked me to take part in the parade as it makes its way to the Memorial Cross in the town park. It means a lot to me and I'm proud to be part of it, and I know my father is too.