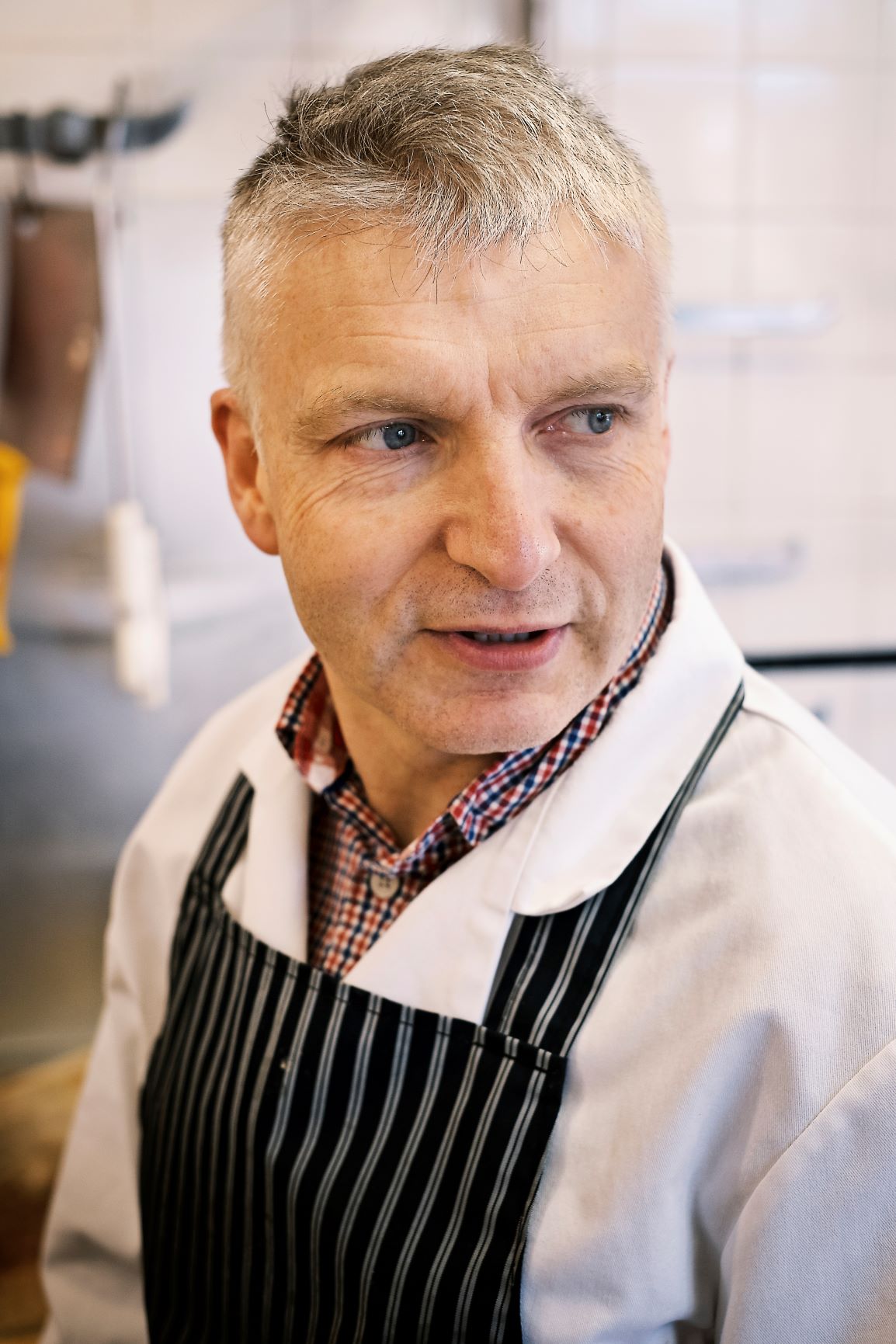 I've been in the butchery trade all my working life. It started off as just a Saturday job at a local butcher's, which led to full-time employment when the owner, recognising my devotion, offered me a job once I'd left school. Quite where my affinity for the job comes from I don't know. But having said that, a distant relation of mine lived just streets away from Smithfield Market in London – a meat market for over 800 years. According to the census his occupation was listed as 'porter' – in all likelihood (and I hope it's true) a self-employed meat porter, or bummaree as they were known.
I was born in Hackney, London, but moved to Old Harlow (aged eight) in 1969. I remember it being a significant change in lifestyle, but like most kids I quickly adapted and settled in. However, my mother, used to more hustle and bustle, found the subdued lifestyle in Harlow somewhat more difficult to become accustomed to.
I've been co-owner of this butcher's for eleven years. It was my next logical step, especially having worked in wholesale butchery for a while. Being away from the public didn't play to my strengths – interaction with those in the community is one of the reasons I enjoy my job so much. Nowadays youngsters don't seem to class butchery as a macho occupation – a stark contrast to when I first started! With it being a predominantly male industry and a majority of customers being of the opposite sex it certainly honed my charm offensive.
'we survive because we work to our strengths'
There's no getting away from the fact that shopping habits have changed. It's got a lot to do with people leading busier lives and working longer hours at jobs which are often out of town. Therefore, online shopping, supermarkets and convenience food has become the norm. It's affected many retail businesses aside from my own. Gone are the fishmonger's, greengrocer's and well over a dozen butcher's shops (just two remaining) that were once the hub of the Harlow shopping precincts. Those shopping centres, dotted around the town, have become less important than town planners could have ever imagined.
We survive because we work to our strengths; quality produce and a quality level of service. Of course extra business would be nice, and it's safe to say that we've noticed a slight upturn as those from different corners of the world have settled in the town. Different cultures and their attitudes towards cooking fresh means we now supply different cuts and types of meat. It's a welcome addition to our regular more 'senior' customers who have remained loyal to us.
A notable moment was when celebrity chef Gordon Ramsay (whose father was a butcher) paid a visit a few years back, while filming a segment for one of his TV programmes. He was chatty; he had a look around and praised what I was doing. After that I did my piece to camera and waited for my five minutes of fame – which ended up on the cutting-room floor!